Monday, August 11, 2008

I will buy Moonlight

My bedroom will have a window which can look for the world


M




MY PET WITH THE DIAMOND TEETH
.



My pretty servant always ready







MY GLASS MADE ONLY BY ORIGINAL DIAMOND






IF I HAVE TIME, I WILL PLAY GOLF ON THE BOAT



MY SECURITY FOR 24 HOURS




ONLY SPRING WATER FROM THE HIMALAYAS TO FLUSH MY TOILET







O


TOILET PAPER






MY SWIMMING POOL CAN ONLY FILL IN WITH EXPENSIVE PERFUME







ONLY A PROFESSIONAL CAN WASH MY CAR WHICH WILL BE GOLD PLATED





MY LAPTOP WITH DIAMOND EDGING AND HAS Intel Pentium IX WITH RAM 30 Gigabite .





MY TRAVELLING CAR



MY HOLIDAY HOUSE



OK……STOP DREAMING AND GO BACK TO WORK

Posted by

Admin
at 9:48 AM
No comments:

Saturday, August 9, 2008
A typical computer mouse has 3 buttons but only two buttons remains dominant in our daily computer usage. For those who don't know, the middle mouse can become quite useful too, if one know how to use it properly.
In this post, I will show you 6 tips to supercharge your Mozilla Firefox with the middle mouse button , thus making your web browsing experience better than before.
1- Click on a link with the middle mouse button to quickly open a link in a new tab. No more right click -> "Open Link in new tab"!
2- Press the Control (Ctrl) button and scroll the mouse wheel backward to increase Firefox's font size. Scroll it forward to decrease the font size.
3- Press the Shift button and scroll the mouse wheel forward to move a page forward and scroll backwards to go the previous page.
Below are Mozilla Firefox's about:config hack to modify hidden preferences (mouse related). Check out here on how to modify about:config.
4- Change the value of middlemouse.paste to true. This will let you paste a clipboard content to any text field with the middle mouse button.
5- Change the value of middlemouse.scrollbarPosition to true and restart your Firefox. The next time you click on a scrollbar location with the middle mouse button, Firefox will center the screen to that position.
6- Change the value of mousewheel.withaltkey.action to 1. This will enable you to scroll document by one page while pressing the Alt button.
That was all that I can find on how to optimize the usage of a middle mouse button in Mozilla Firefox. Feel free to add more tips and tricks by leaving a comment below. Enjoy!
Posted by

Admin
at 11:13 PM
No comments: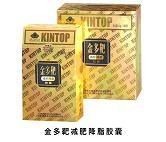 Pil Pelangsing Kintop - Pegawai farmasi seluruh negara menyerbu farmasi / memeriksa premis di Sabah dan Sarawak bertujuan untuk membasmi pengedaran pil ini.
Pil ini telah diharamkan oleh Kementerian Kesihatan kerana mengandungi bahan racun berjadual - Sibutramine, yang dipercayai mengakibatkan kematian seorang surirumah, Normala Shahidan, 33, dari Kampung Gunung Keriang, Alor Star pada 15 Februari lalu.
Awas! Pil ini masih boleh didapati dari Internet dan perlu dielakkan.
Hasil pemerhatian saya dari Internet, promosi pil pelangsing Kintop:-
Natural, safe and effective health food for weight losing as well as lowering cholesterin. It has also some function to regulate blood sugar.Made of chinese herbs and tea essense. It is a kind of purely natural herb product. No chemical additives inside. No Ma Huang(Ephedra Herb) inside.

It is gurranteened that at least 3 kg weight can be reduced per month, 100% effective for lowering blood fat and specially effective for dealing with constipation. It is without any negative side effect.

Main ingredients: Extract of Rhubarb and Tea, as well as microcrystalline cellulos.

Health Care Effects: Controlling weight, regulating blood fat and improving gastrointestinal function. (lubricate the bowels and defecation).

It also functions to regulate glucose level and decline level of serum TNFa (Tumor Necrosis Factor) and Insulin.

We can provide with finished products also raw materials.

KINTOP: 100% Effective and 100% Safe
HS Code: 14049000
Trademark: KINTOP
Model: SH-04
Standard: Q/SMKD01-1998
Productivity: 300,000 packets /month
ayat-ayat yang diboldkan di atas menampakkan penipuan yang agak jelas. dalam keghairahan menguruskan badan untuk kecantikan, kadangkala kita perlu menyemak apa yang dimakan, takut memudaratkan kesihatan.
Posted by

Admin
at 11:10 PM
No comments: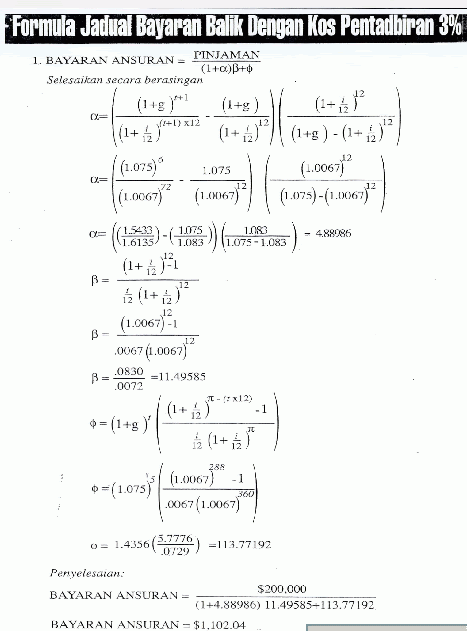 A Malay proverb once said "Kalau takut dilambung ombak, jangan berumah di tepi pantai". So true based on the formula used to pay back your PTPTN government loans. Whew!
"Kalau SPM Matematik tak lulus jangan cuba menggunakan formula di atas!"
Check out the mind bending formula completely from PTPTN Website.
Posted by

Admin
at 11:02 PM
No comments:

Below are pictures of the new seven wonders of the world. They are chosen by polls from the public, organized by a Swiss corporation called New Open World Corporation. The selection was made by free and paid votes, through telephone or online.
From Wikipedia - Petra is an archaeological site in Jordan, lying in a basin among the mountains which form the eastern flank of Arabah (Wadi Araba), the large valley running from the Dead Sea to the Gulf of Aqaba. It is famous for having many stone structures carved into the rock.
2- Machu Picchu
From Wikipedia - Machu Picchu sometimes called the "Lost City", is a pre-Columbian city created by the Inca Empire. It is located at 2,430 m (7,970 ft) on a mountain ridge. Machu Picchu is located above the Urubamba Valley in Peru, about 70 km (44 mi) northwest of Cusco.
3- Chichen Itza
From Wikipedia - Chichen Itza or "At the mouth of the well of the Itza", is a large pre-Columbian archaeological site built by the Maya civilization located in the northern center of the Yucatán Peninsula, present-day Mexico.
4- Taj Mahal
From Wikipedia - The Taj Mahal is a mausoleum located in Agra, India. The Mughal Emperor Shah Jahan commissioned it as a mausoleum for his favorite wife, Mumtaz Mahal.
5- Colosseum
From Wikipedia - The Colosseum or Coliseum, originally the Flavian Amphitheatre, is a giant amphitheater in the center of the city of Rome, Italy. Originally capable of seating around 50,000 spectators, it was used for gladiatorial contests and public spectacles.
From Wikipedia - The Great Wall of China is a series of stone and earthen fortifications in China, built, rebuilt, and maintained between the 5th century BC and the 16th century to protect the northern borders of the Chinese Empire during the rule of successive dynasties.
7- Statue of Christ the Redeemer
From Wikipedia: Statue of Christ the Redeemer, is a statue of Jesus Christ in Rio de Janeiro, Brazil. The statue stands 38 m (105 feet) tall, weighs 700 tons and is located at the peak of the 700-m (2296-foot) Corcovado mountain in the Tijuca Forest National Park, overlooking the city.
And if you are wondering why there are no pyramids in this list, the answer is very easy. The Giza pyramids are incomparable and it does not have to compete. It were assured of retaining its status in addition to the new seven wonders. After all, it is the only surviving structures of the ancient seven wonders of the world.
And here it is, the Giza Pyramids picture:
Posted by

Admin
at 10:53 PM
No comments:

Ukrainian artist Nikolai Syadristy's miniature art works are most likely the smallest in the world; some are less then a millimeter high. The fly above is about as big as this comma ,
Syadristy creates his works of art with tools he also makes.
"It's infernal work, considering the fact that very often it has taken more time to make an instrument than to process a part with it", he says. "Every new piece needs a new set of instruments. When I make my miniatures, I try to hold my breath and touch the work with the instrument between the beats of my heart to prevent my hand from trembling".
Among his masterpieces - or is that micropieces? - are a 3.85mm model of Columbus' ship the Santa Maria, composed of 256 gold parts - and a detailed nest of birds. The nest, for starters, being made out of half a hollowed-out poppy seed with some of the birds inside the nest and some in flight around it.
Posted by

Admin
at 10:47 PM
No comments:

Posted by

Admin
at 10:41 PM
No comments:

FINE
Ini la yang perempuan suka gunakan untuk hentikan pergaduhan, lebih-lebih lagi bila dia rasa dia yang betul dan anda kena diam. Jangan sekali kali gunakan perkataan ini untuk memberi gambaran rupanya, terutama sekali apabila dia sedang mencuba pakaian di kedai - hanya akan membawa anda berdua bergaduh.

LIMA MINIT
Ini sebenarnya setengah jam. Ianya sama jugak dengan lima minit yang perlawanan bola sepak akan berakhir sebelum anda membawa sampah ke luar, jadi ini adalah pertukaran yang seimbang.

TAKDE APA-APA
Ini bermakna "something" dan anda perlu berjaga-jaga! Perkataan ini melambangkan perasaan perempuan yang inginkan anda berputar-putar kat dalam macam mesin basuh. Selalunya, ini akan memulakan pergaduhan yang akan bertahan selama 'LIMA MINIT' dan diakhiri dengan 'FINE'.

PERGILAH! (dengan kening terangkat)
Ini adalah satu cabaran yang akan membuat si perempuan menjadi marah dengan 'TAKDE APA-APA' dan diakhiri dengan 'FINE'. PERGILAH (dengan kening biasa) Ini bermakna 'mengalah' atau 'buat je la apa yang awak nak sebab saya tak kisah'. Anda hanya akan mendapat situasi ini dan dalam beberapa minit diikuti dengan 'TAKDE APA-APA', 'FINE' dan dia akan bercakap kembali dengan anda dalam masa 'LIMA MINIT' apabila dia dah sejuk.

MENGELUH YANG KUAT
Ini sebenarnya bukanlah perkataan, tetapi kenyataan yang sering disalah anggap oleh kaum lelaki. 'MENGELUH YANG KUAT' bermakna dia merasakan anda adalah seorang yang bodoh ketika itu dan dia sendiri terfikir kenapalah dia menghabiskan masa berdiri di situ dan bergaduh mengenai 'TAKDE APA-APA'.

MENGELUH YANG PERLAHAN
Lagi sekali, ini bukanlah perkataan. 'MENGELUH YANG PERLAHAN' membawa maksud yang dia berasa puas. Adalah lebih elok jika anda duduk diam, jangan buat sebarang tindakan... dan dia akan kekal puas.

OKAY LAH
Ini adalah kenyataan yang paling merbahaya seorang perempuan boleh buat kepada lelaki. 'OKAY LAH' bermakna dia ingin berfikir panjang sebelum dia membalas terhadap perbuatan anda yang telah menyakitkan hatinya. 'OKAY LAH' selalunya digunakan dengan 'FINE' bersama 'Kening Yang Terangkat'.

BUAT LAH
Satu ketika di masa depan dalam masa terdekat, anda akan dilanda masalah yang besar.

TOLONGLAH
Ini bukan kenyataan, sebaliknya adalah pelawaan. Seorang perempuan memberi anda peluang untuk mengeluarkan sebarang alasan atau sebab di atas apa yang telah anda lakukan. Anda mempunyai peluang yang adil dengan kejujuran, jadi berhati-hati dan anda tidak akan mendapat 'OKAY LAH'.

TERIMA KASIH
Seorang perempuan mengucapkan terima kasih. Jangan pengsan. Terima dan ucapkan sama-sama.

TERIMA KASIH BANYAK-BANYAK
Ini banyak berbeza dari 'TERIMA KASIH'. Seorang perempuan akan menggunakan ini apabila dia dah terlampau marah pada anda. Ini menunjukkan yang anda telah menyinggung perasaannya dan akan diikuti dengan 'MENGELUH YANG KUAT'. Berhati-hati untuk tidak bertanya apa yang salah selepas 'MENGELUH YANG KUAT' kerana ini hanya akan membuat dia berkata 'TAKDE APA-APA'.
Posted by

Admin
at 8:13 PM
No comments:

HAVE YOU SMILED TODAY
?


Posted by

Admin
at 7:28 PM
No comments: